What is Resin Bound Surfacing?
Resin Bound surfacing is a system that that you will now see being used more and more in the UK, and the market for this has grown steadily over the last five years. It has been used throughout Europe, namely Belgium and Germany, for nearly 15 years now.
One of the main reasons for this surfacing to become so popular is its permeability and complying with the SUDS regulations that came into effect in Oct 2008. These rules were introduced to help prevent localised flooding by restricting people from installing non-permeable surfaces in an area of what was once permeable ground, for example what was once lawn then being covered by concrete block paving, therefore preventing the water from entering the water table and overwhelming highway systems with this huge 'funnel' effect into the highways drains.
This means unless you are specifically granted planning permission by your local authority (which is very unlikely to be obtained) to discharge your surface water onto the public highway you will need to deal with your own surface water by means of drainage or installing a fully permeable surface. Resin Bound aggregate fully complies with all required SUDS regulations and is a perfect solution.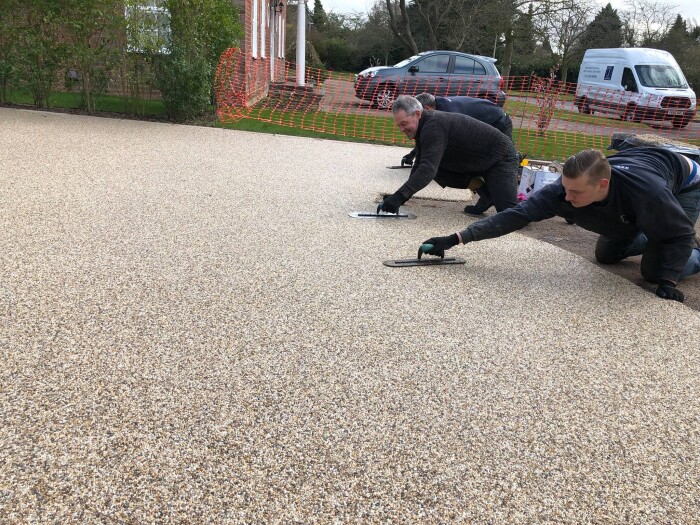 The Resin Bound system if installed correctly, consists of a strong, long lasting foundation that is fully permeable thus allowing water back into the ground, but offering at the same time an attractive, highly appealing and hard wearing surface without any need for an unsightly linear drainage channel or drainage considerations at the front of the property adjoining the highway. The layer of Resin Bound Stone is 15-18mm laid onto a primed, open grade Tarmac or lean-mix base.
The finish stone is washed and dried and supplied in 25kg bags, which is then mixed with at least a 8% content of resin glues and hardeners. All glues Jamescape use are a premium, Aliphatic, fully UV resistant non-yellowing system and of the thousands of square metres we have installed, never have our surfaces failed with our supplied glues. The rumours of Resin Bound surfacing cracking and not lasting the test of time are usually told by companies that haven't invested the time and money into the training to be able install this superb product.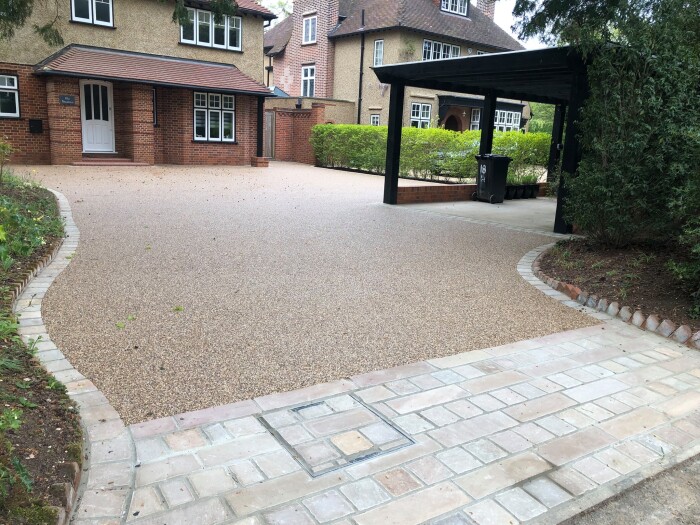 With a suitable decorative edging we can achieve sweeping curves and shapes much easier now so at Jamescape we also consider Resin Bound aggregate a great design tool.
There are up to 500 different colour choices of finish and colour stone to choose from so we are confident we can cater for any taste. As a company we cannot speak highly enough of the look and the environmental benefits of choosing Resin Bound surfacing, whether it be a patio, driveway, access path or seating area we have not yet had a customer who hasn't been thrilled with the results of choosing the Resin Bound finish!

See more images from this charity project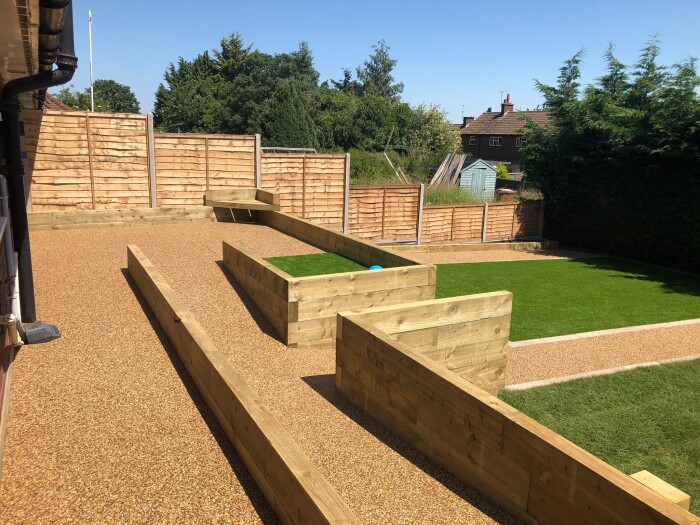 Want To Get On Board?
We are always looking for ways to improve our business, so if you have experience with resin bound surfacing and think you could add value to our team, we'd like to hear from you - send an email to: info@jamescape.co.uk